The Cardinals have made a late-night strike to bolster their rotation, reportedly reaching agreement with free agent starter Steven Matz on a four-year, $44MM guarantee, pending a physical. Incentives could eventually push that figure as high as $48MM. Matz is a client of Icon Sports Management.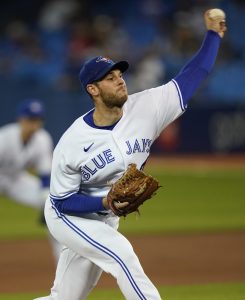 Matz reportedly fielded offers from eight clubs, and interest was robust enough that he'd been expected to sign before Thanksgiving. Teams' affinity for the 30-year-old is also evident in the eventual contract terms, as Matz's deal fairly handily tops MLBTR's three-year, $27MM projection entering the winter.
The left-hander has been a reliable rotation member for the majority of the past few years. He's eclipsed 150 innings and posted an ERA between 3.82 and 4.21 in each of the last three 162-game seasons. His peripherals haven't been quite as impressive, but Matz has typically offered near league average rate numbers while reliably taking the ball every fifth day.
Matz has never had elite swing-and-miss stuff. That continued to be the case in 2021, as his 22.3% strikeout percentage and 9.4% swinging strike rate were both a bit shy of the respective league average marks (22.6% and 10.9%) for starting pitchers. That's arguably less alarming for St. Louis than it would be for other clubs around the league, as the Cardinals have reportedly been seeking pitchers best equipped to take advantage of the team's elite defense. Matz seems to fit that bill, as he annually posts walk rates lower than most and typically induces ground balls at a slightly higher than average rate.
He's also one of the harder throwers available, averaging 94.5 MPH on his sinker in each of the past two years. That's particularly rare for a left-handed starter, with only seven other southpaws (minimum 100 innings) throwing harder on average in 2021. He'll add a different look to a Cardinals rotation that otherwise projects to include right-handers Adam Wainwright, Jack Flaherty, Miles Mikolas and Dakota Hudson.
Further adding to Matz's appeal is that the Blue Jays declined to issue him a qualifying offer at the start of the offseason. The signing won't cost St. Louis any draft pick compensation, and Toronto won't receive any form of compensation for his departure. The Jays were reportedly among the teams to put forth an offer in hopes of keeping Matz north of the border, but that effort proved not to be enough to keep him in a Jays uniform for more than one season.
There's plenty about Matz for the St. Louis front office to like, but this deal does come with its share of risk. While Matz was a solid performer in three of the past four seasons, his 2020 campaign was nothing short of a disaster. He was tagged for a 9.68 ERA across 30 2/3 innings that year, serving up a staggering 14 home runs in that time. Including that showing deals a heavy blow to Matz's otherwise fairly solid recent work.
Going back to the start of 2018, he owns a cumulative 4.36 ERA/4.55 FIP in just under 500 frames. That's not particularly impressive production in aggregate, worse than that of Anthony DeSclafani, who signed for three years and $36MM with the Giants on Monday. DeSclafani is a year older than Matz is, and perhaps the Cardinals are simply willing to write off 2020 as a small sample in an overall anomalous year.
Homers have been an issue for Matz for the bulk of his career in spite of his ground-ball proclivities, though. He's generally given up a lot of hard contact when batters have managed to get the ball in the air against him. The 2021 campaign was the first of his career in which he's allowed a homer per fly ball rate lower than the league mark. Whether he can sustain that kind of success keeping the ball in the yard could go a long way towards determining whether he'll continue to post a sub-4.00 ERA over the coming seasons.
The specifics on Matz's contract have yet to be reported, but he'll receive an average annual value of $11MM. The Cardinals have the flexibility to accommodate an eight figure salary over the coming few seasons, with Jason Martinez of Roster Resource projecting the club's 2022 player commitments in the $142MM range before accounting for Matz's deal. Their obligations come out around $77MM in 2023. The franchise has opened the past few seasons with payrolls hovering right around $160MM, so a flat $11MM annual payment would leave somewhere around $7MM – $10MM in 2022 spending capacity if ownership signs off on a similar payroll next year. (Backloading the deal would obviously leave more immediate space but have a higher hit on the club's future commitments).
That could allow St. Louis to make another addition or two elsewhere on the roster, and Katie Woo of the Athletic tweets that the Cardinals are expected to continue to add. It's already a solid group without many obvious holes on paper, although shortstop, backup catcher and the bullpen all stand out as speculative possibilities for upgrades over the coming months.
Jeff Passan of ESPN reported that the Cardinals and Matz were in agreement on a four-year, $44MM guarantee that could max out at $48MM based on incentives.
Image courtesy of USA Today Sports.