Left-handed reliever Brett Cecil took to Instagram this week to announce his retirement from baseball. In a lengthy statement, Cecil thanked his family, his representatives at ACES and both Major League teams for which he pitched: the Blue Jays and the Cardinals.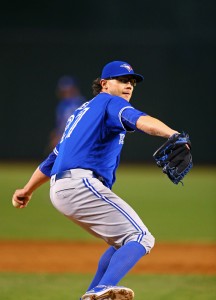 Cecil, 35, hasn't pitched in the Majors since the 2018 season, although that's not for lack of effort. The southpaw signed a four-year contract with the Cardinals in the 2016-17 offseason and turned in a solid first year in St. Louis before injuries completely derailed his time with the organization. A shoulder strain landed Cecil on the injured list after his first appearance of the 2018 season. He missed more than a month with that injury and spent another month on the shelf due to a foot strain later that year.
The 2019 season was a complete wash for Cecil, who underwent surgery to alleviate carpal tunnel syndrome in his pitching hand early in the year. He wasn't able to make it back to the mound in '19, and his 2020 season never got off the ground. Cecil suffered what the team termed a "significant" hamstring strain in Spring Training, not long before the league shutdown due to the Covid-19 pandemic. He'd made it back to the mound and was reportedly exploring a new sidearm delivery when MLB clubs began their "Summer Camp" in advance of the shortened season. The Cardinals cut him loose prior to the new Opening Day in what would have been the final season of that four-year, $30.5MM contract, however. He did not sign with a team for the 2021 season.
Cecil's run in St. Louis clearly didn't go as hoped, but the injury-plagued nature of that contract tends to overshadow the quality results he'd enjoyed in Toronto prior to signing that deal. Cecil had a bit of success as a starter with the Jays in 2010-11, pitching to a 4.43 ERA in 296 1/3 innings over the life of 48 starts. That two-year period even included a pair of complete games — one of them his lone MLB shutout. The left-hander's career truly took off with a full-time move to the bullpen, however.
From 2013-16, Cecil pitched to a 2.90 ERA with a sizable 51.2% ground-ball rate, a massive 30.5% strikeout rate and a solid 8.3% walk rate. He was more effective against lefties than righties, as one would expect, but he more than held righties in check during that four-year run. Cecil posted a 3.88 ERA in his first season with the Cardinals, as his strikeout rate dipped a bit, but he remained a strong ground-ball pitcher with a terrific walk rate.
Cecil will retire from baseball with parts of 10 seasons in the Major Leagues, during which time he went 44-47 with a 4.29 ERA, 12 saves and 67 holds in 756 innings. A series of injuries cut short what looked to be a burgeoning run as one of the game's better left-handed relievers, but two solid seasons as a starting pitcher and a five-year bullpen peak that saw him post a combined 3.14 ERA and fan 29% of his opponents from 2013-17 nevertheless makes for a fine big league career.