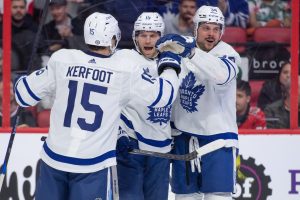 The Toronto Maple Leafs are on a collision course with the Tampa Bay Lightning in the first round of the Stanley Cup playoffs. It has been well-documented the Maple Leafs' last playoff series win came in 2004.
Despite being fourth overall in the standings, advancing to the second round is not a slam dunk. Could we be talking rebuild at this time next year? What if the Leafs lose in the first round again?
First-Round Loss, New-Look Leafs?
Will the Big Four of Auston Matthews, Mitch Marner, William Nylander and John Tavares remain intact? Which unrestricted free agents will re-sign? Is there any money left for new free agents? How much will restricted free agent goaltender Ilya Samsonov be offered for his stellar play this season?
Which prospects will find full-time spots with the big club? What about the future of general manager Kyle Dubas and head coach Sheldon Keefe? The team could look vastly different next season.
At Forward
The contracts of Matthews, Marner, Nylander and Tavares account for over $40 million next season. With the salary cap projected to be around $83.5 million next season, will they all be back?
One would think Matthews and Marner are untouchable at this point, while Tavares has a full no-move clause with his hometown team, so it seems unlikely he would be traded. That leaves Nylander, who could fetch a good return on the trade market. He will be in the final year of his current team-friendly contract, which only has a 10-team no-trade list clause.
Matthews is also in the final year of his contract, so if things go south early and he doesn't show an interest in re-signing, he could be a big chip to help start another rebuild.
Calle Jarnkrok and Sam Lafferty are the only other forwards under contract for next season, leaving six positions available. They combine for just over $3 million in salary next season.
On Defence
The blue line corps is led by Morgan Rielly, T.J. Brodie, and Jake McCabe, while Justin Holl is slated to become an unrestricted free agent in the summer. Should veteran Jake Muzzin not return from his serious neck injury, the rest of the positions would likely be taken up by returnees Timothy Liljegren, Mark Giordano and Conor Timmins, each making less than $1.5 million next season.
Rielly is in the first year of an 8-year, $60 million contract but, with his struggles this season, it seems like a move would be unlikely. Brodie will be in the final year of his current deal at $5 million and could be traded as part of a rebuild.
Between The Pipes
Matt Murray has played well this season… when he has played, which hasn't been often. A buy-out in the final year of his $4.7 million contract could provide some much-needed cap space.
As a restricted free agent, Samsonov will get a raise from his $1.8 million salary this season, but will it be with the Maple Leafs? If the Leafs lose in the first round, they could start next season with two new goaltenders again, like the gamble they took last season.
In The Future
Promising prospect Matthew Knies could sign and be in the lineup as soon as this year's playoffs. The Phoenix native earned Big Ten Player of the Year honours with the top-ranked Minnesota Golden Gophers. At 6'3" and 210lbs., he appears to be NHL-ready. Because he has yet to sign, he would be on a cap-friendly entry level contract for his first few years.
After an inconsistent start to the year, Nick Robertson should battle for a top-six role next season after recovering from a season-ending knee injury. Nick Abruzzese, Pontus Holmberg, Bobby McMann and Alex Steeves should compete for bottom-six spots next season.
On defence, Topi Niemelä and Roni Hirvonen could join the Marlies for the end of this season, but they may need a year of playing in North America before joining the big club.
The Leafs also own the Bruins' first-round pick this summer, which could turn into some NHL talent or be part of the rebuilding process.
Front Office
Off the ice, the contract of general manager Kyle Dubas expires this summer. It seems inconceivable he would return if the Leafs lose in the first round again. Dubas has shown his players he would do his best to put them in position for success.
Head coach Sheldon Keefe will be in the final year of his contract. However, he would likely suffer the same fate as Dubas if the Leafs were to be ousted in the first round. Usually, a new general manager hires a new head coach, leaving Keefe in a precarious situation.
If the players don't reward Dubas and Keefe with at least some level of playoff success this spring, the Shana-Plan of team president Brendan Shanahan may be scrapped and a whole new front office in place next season. The players have had plenty of opportunities with little reward in the playoffs, thus far. Patience is running out with this fanbase again. One more body blow could prove to be the knockout punch.
As you can see, the window of opportunity for the Maple Leafs to win the Stanley Cup is closing fast. Losing in the first round again is a topic no fan of LeafNation wants to address, but it is a reality. Should they lose again to the Lightning, this team could look very different next season.
What if the Leafs lose in the first round again? Can you say rebuild?
Main Photo: Marc DesRosiers-USA TODAY Sports
The post What If The Maple Leafs Lose In The First Round Again? appeared first on Last Word On Hockey.