The St. Louis Blues have made their defensive addition, acquiring Nick Leddy from the Detroit Red Wings in exchange for Oskar Sundqvist and Jake Walman and a second-round pick in 2023. The Blues will also receive Luke Witkowski in the deal, giving them some more depth (at multiple positions, even). Lou Korac of NHL.com reports that the Red Wings will be retaining 50 percent of Leddy's remaining contract.
Leddy, who turned 31 yesterday, is still one of the strongest skating defensemen in the league and can fit into a Blues team that has their eyes set on another Stanley Cup. After a career spent entirely in Chicago and New York, Leddy came to Detroit in an offseason trade that cost just Richard Panik–a contract the team didn't want anyway–and a second-round pick.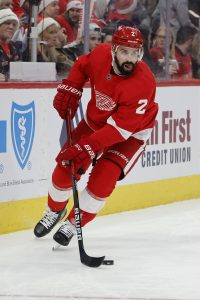 After a few months with the Red Wings, he'll bring back even more than that, as both Sundqvist and Walman project as potential NHL options for Detroit. There's even potential for him to return to them anyway as a free agent, as Leddy is currently scheduled to hit the open market this summer. Jeremy Rutherford of The Athletic tweets that there have not yet been any extension discussions between the Blues and Leddy, meaning this could just be a pure rental for the last part of the season.
Getting back players that can contribute right away is key for a Red Wings team that hopes to contend for a playoff spot next season. In Sundqvist, they're getting a 27-year-old forward that carries a cap hit of $2.75MM through the 2022-23 season. While he still hasn't turned into much of an offensive player, the 6'3″ forward is a physical force that can fit into a few different spots in the bottom of the lineup. In Detroit, the team can perhaps even squeeze more offense out of him, as the Blues did when he scored 14 goals and 31 points in 2018-19.
Walman too could get a much bigger chance in Detroit, who have now moved out a pair of defensemen following Troy Stecher's deal yesterday. The 26-year-old has played just 57 games in his NHL career to this point and will be a Group VI unrestricted free agent this summer if he fails to play in enough games down the stretch. He'll likely enter the lineup on a regular basis to avoid that, at which point he'll be an arbitration-eligible RFA in the offseason.
This has turned into a clear strategy for Red Wings GM Steve Yzerman, acquiring underutilized players for expiring assets. In fact, he might even end up flipping Sundqvist or Walman at some point as the team continues to build for the future.
But even though those players are tough to lose, the Blues are getting their big addition on defense ahead of a Stanley Cup push. Leddy can slot into the lineup and help take some of the pressure off of players like Marco Scandella who has struggled to maintain his previous level. The fact that he has over 120 games of playoff experience and won a Stanley Cup with the Chicago Blackhawks in 2013 only adds to his appeal.
Photo courtesy of USA Today Sports Images