It's September 5th, which means that NHL preseason hockey is now less than three weeks away. Teams have been dealing with the realities of a flat salary cap for two offseasons now, but for some teams, it's crunch time as their young star (or stars) remain in need of a new contract for the 2021-22 season.
While it's obviously preferable for teams to get these players signed so they can join the team right away, teams do technically have until December 1st to sign any RFAs for them to be eligible to suit up this season. However, waiting into the season to sign the RFAs will increase the cap hit for the first year of the deal, something the league saw with William Nylander's contract in 2018-19.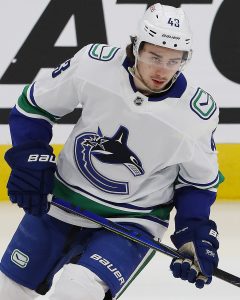 For some teams, mainly the Vancouver Canucks, that could be an issue. They're the team that faces the largest potential cap crunch with both Elias Pettersson and Quinn Hughes to sign. The team currently carries $10.7MM in cap space, but that number could increase to as much as $14.2MM with Micheal Ferland being placed on long-term injured reserve. Pettersson and Hughes both struggled at times this season, but it's hard to take results from any Canuck into account too much due to the team's large-scale COVID-19 outbreak. Pettersson was limited to just 26 games because of injury, scoring 21 points. Hughes netted 41 points in 56 games. However, it's still a hard argument to make that these two aren't elite talents. Because of this, it's likely impossible for Vancouver to afford both on long-term deals. One of them will likely be receiving a two-to-four-year contract with a much lower cap hit, but the contracts need to be signed before the start of the season in order to avoid any inflation on the already tight cap hits.
Then there's two teams who've had long, drawn-out negotiations with their respective stars this offseason – the Minnesota Wild and Ottawa Senators. Both Kirill Kaprizov and Brady Tkachuk remain without deals. There appears to be some amount of hope for one team, though. Multiple reports in recent days have suggested the Wild are making progress on a deal, especially considering the deadline has now passed for Kaprizov to sign back home in Russia. The same can't be said for Ottawa, as Tkachuk has claimed he hasn't received a legitimate offer from the team and is beginning to get frustrated with the situation (as reported here by TSN's Shawn Simpson). Ottawa does still have a great amount of salary cap flexibility, though, and they can afford for contract negotiations to stretch into the season.
Staying in Canada, the Edmonton Oilers still have Kailer Yamamoto to lock down in order to fill out their top-six forward group. When Oscar Klefbom is placed on LTIR and Alex Stalock is presumably sent down to the minors, the team will still have just around $1.8MM in cap space. Yamamoto likely won't be signing anything longer than a two-year deal due to the situation. And though they can create some additional flexibility by not operating with a full roster, Edmonton will still be very interested in avoiding a prorated cap hit as the salary cap situation will remain tight no matter what.
Then there's the remaining duo of youngsters playing for American teams – Rasmus Dahlin and Robert Thomas. Dahlin's negotiations will be interesting to watch, purely to see if the team will commit to him long-term or not. The Sabres likely want to pay him more as the team still hasn't reached the salary cap floor, as they still need to add roughly $2.5MM in cap hits to be cap-compliant. Dahlin will receive much more than that on any deal he signs. The Blues are in a bit of a pickle with Thomas, as the team has just $1.5MM in cap space remaining to ink the promising young forward. Thomas had only 12 points in 33 games this year and spent time injured, but had 10 goals and 42 points the season prior. It'll likely be a one-year or two-year deal for Thomas, who finds himself in a very similar situation to Yamamoto in Edmonton.
All seven of these players will be watched with a keen eye by many in the hockey community as each day passes before camps open across the league. As the league emerges from the quiet part of the offseason, these players will likely dominate headlines sooner rather than later.
All salary cap figures via CapFriendly.com.