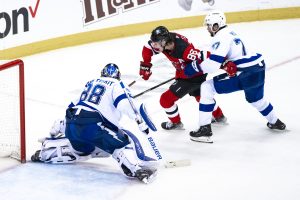 Welcome back to another day of NHL Predictions. Each day, Last Word on Hockey takes a look at the games that are happening and gives our predictions for each one, breaking down head-to-head and other factors that may play in. We also have a featured game of the day, which is considered must-watch TV. Today's featured game is between the New Jersey Devils and the Tampa Bay Lightning.
NHL Predictions: New Jersey Devils vs Tampa Bay Lightning
Winnipeg Jets vs St Louis Blues
Head to Head: Jets 0-0 Blues
The first game on the NHL Predictions is a Central Division showdown. A confident Winnipeg Jets team takes on the St Louis Blues.
The Blues are without Jordan Binnington. But one player that has made it's impacts is Sammy Blais. Since coming back over to the team in the trade, Blais has scored six goals. It's too little too late but it is good to see some players on the team competing.
Winnipeg is fighting for every two points. Seeding is everything at this rate, and getting the win last night helps. They'll need to continue that against a division rival aiming to play spoiler.
Prediction: Jets defeat Blues 3-1
Nashville Predators vs New York Rangers
Head to Head: Predators 0-0 Rangers
Our next game on the NHL Predictions takes place on Broadway. The New York Rangers continue their homestand against the Nashville Predators. Both teams are in the second of a back-to-back set.
New York has been on fire lately and they have enjoyed home cooking. They sit in third place in the division and are gearing up for a deep run. Mika "March Madness" Zibanejad is thriving as of late and is cooking at the right time. Jaroslav Halak should be in line to start with Igor Shesterkin playing last night.
Nashville is running out of time in the race, but still lots to love about them. However, Filip Forsberg is on the IR still which doesn't bode well for them offensively. Jusse Saros is a problem and could give the Rangers fits.
Prediction: Rangers defeat Predators 4-2
Vancouver Canucks vs Anaheim Ducks
Head to Head: Canucks 0-0 Ducks
Our next game on the NHL Predictions is a Pacific Division showdown. The Vancouver Canucks take on the Anaheim Ducks. There won't be many fireworks, but every team has watchable talent.
Anaheim is in the running for Connor Bedard. But they have must watch hockey with Trevor Zegras. One player that has performed well is Mason McTavish. Vancouver may be out of the race, but Elias Pettersson has been one of the top producers in the league. It may not be the prettiest hockey, but there is watchable talent to tune in for.
Prediction: Canucks defeat Ducks 5-2
New Jersey Devils vs Tampa Bay Lightning
Head to Head: Devils 0-2 Lightning
Our featured game on the NHL Predictions is a rematch from this week. The New Jersey Devils take on the Tampa Bay Lightning. This is the third match this week between the two clubs and both enter the second of a back-to-back set.
Things did not go well for the Devils against this Tampa Bay team. Tampa Bay outscored New Jersey 8-4 in the two games. In addition, Andrei Vasilevskiy was a huge reason why. In the two games, he finished with 3.53 goals saved above expected combined. He kept the Devils in check the entire game. New Jersey and it's top guns have been held in check as of late. They will need to bring their A-game against Tampa again.
Vitek Vanecek and Andrei Vasilevskiy should be in the crease for a rematch in net. A playoff-type feel game is on deck.
Prediction: Lightning defeat Devils 4-3
Main Photo: John Jones-USA TODAY Sports
The post NHL Predictions: March 19 Including New Jersey Devils vs Tampa Bay Lightning appeared first on Last Word On Hockey.