WINNIPEG, Manitoba – Ash Gibbs lives just minutes from the border that separates Canada and Minnesota, the home state of Justin Faulk. And it's the veteran defenseman who motivates Gibbs to unite St. Louis Blues from all over the world.
"As soon as he got traded to the Blues [in 2019], I was so excited," said Gibbs. "He's like a Swiss Army knife on defense. You never see him mentioned for the Norris [Trophy, NHL's top defenseman], but he always shows up with his lunch pail to work."
Faulk joined the Blues just a few months after the team's Stanley Cup championship in 2019. His first go-around in St. Louis admittedly came with some growing pains. That season, Gibbs took to Twitter and came up with an idea to back the blueliner.
"Everybody on the Blues had nicknames," said Gibbs. "Robert Thomas was 'elite.' You had 'Binner' and 'Schenner.' Watching one late game, they were on the West Coast road trip, I put out 'Faulketeers' [on Twitter]. I didn't think anything of it."
Slowly, but surely, Blues fans caught on to the nickname, though not necessarily as one for Faulk himself. Three of Gibbs' close friends started using "Faulkateers" in the form of a Twitter hashtag around 2020, a platform to praise the three-time All Star.
Fast-forward to Faulk's second St. Louis season, the "Faulkateers" trend gained some traction. The defenseman took on larger leadership roles and improved statistically after the departure of captain Alex Pietrangelo.
In a Feb. 2021 game against the Arizona Coyotes, Faulk scored two goals, including the game-winner in overtime. After that, he first learned about his growing fan group.
Gibbs recalls that St. Louis Post-Dispatch reporter Jim Thomas asked Faulk, "Are you aware of this group called the 'Faulkateers'?"
"He just stopped. It killed the interview, and I couldn't stop laughing," said Gibbs. "Everybody was messaging me, 'He just dropped Faulkateers in an interview!'"
Legend of the Faulkateers keeps growing. The "#FAULKATEERS" hashtag reached more than 900,000 people on Twitter over the past week, per Twitter analytics. Gibbs predicts that around 100 people used the hashtag regularly during the Blues playoff run last year. The "Faulkateers" concept has inspired relatively new Blues fan accounts like Justin Faulk's Mustache (@faulk_mustache on Twitter) and similar hashtags like "#FAULKDINI."
"Kind of watching it now, who would've thought this thing would've taken off from where it started," said Gibbs.
Gibbs and his daugther Makayla are consistently working to spread the love of the "Faulkateers." Their latest mission came during the Blues' most-recent road game, Monday against the Winnipeg Jets. It was nearly a four-hour trip from their home in Fort Frances, a town in the province of Ontario.
"It's like minus-20 [outside]. It was very a very enjoyable weather to be stuck inside the arena," said Gibbs.
In pregame warmups, Gibbs held up a sign against the boards that read "#FAULKATEERS." It didn't take long to catch the attention of his hero.
"I put it up on the glass, and he skated," said Gibbs. "He went on the left side, he came around the first time, and he kind of looked quick. Then, the second time, you can see he's reading it as 'Faulkateers.' He has a smirk on his face. I'm like, 'He saw it!' He looked away, and he had a smirk. And right away, I'm looking like, 'He saw it!' We're all laughing."
The first in-person encounter with Faulk and Gibbs, the self-proclaimed president of his fan club, caught them both by surprise.
"The next time he looked, he's like 'Okay, I think I saw what I saw.' Yeah, it's a 'Faulkateers' sign!," said Gibbs. "That was the best part, just seeing him read it. Seeing his reaction made me laugh the hardest because he's like, 'Oh my God, someone made a sign for me.' That's the part that made me laugh the hardest, just seeing him actually see the 'Faulkateers' sign, and knowing that the player and the president finally got to meet."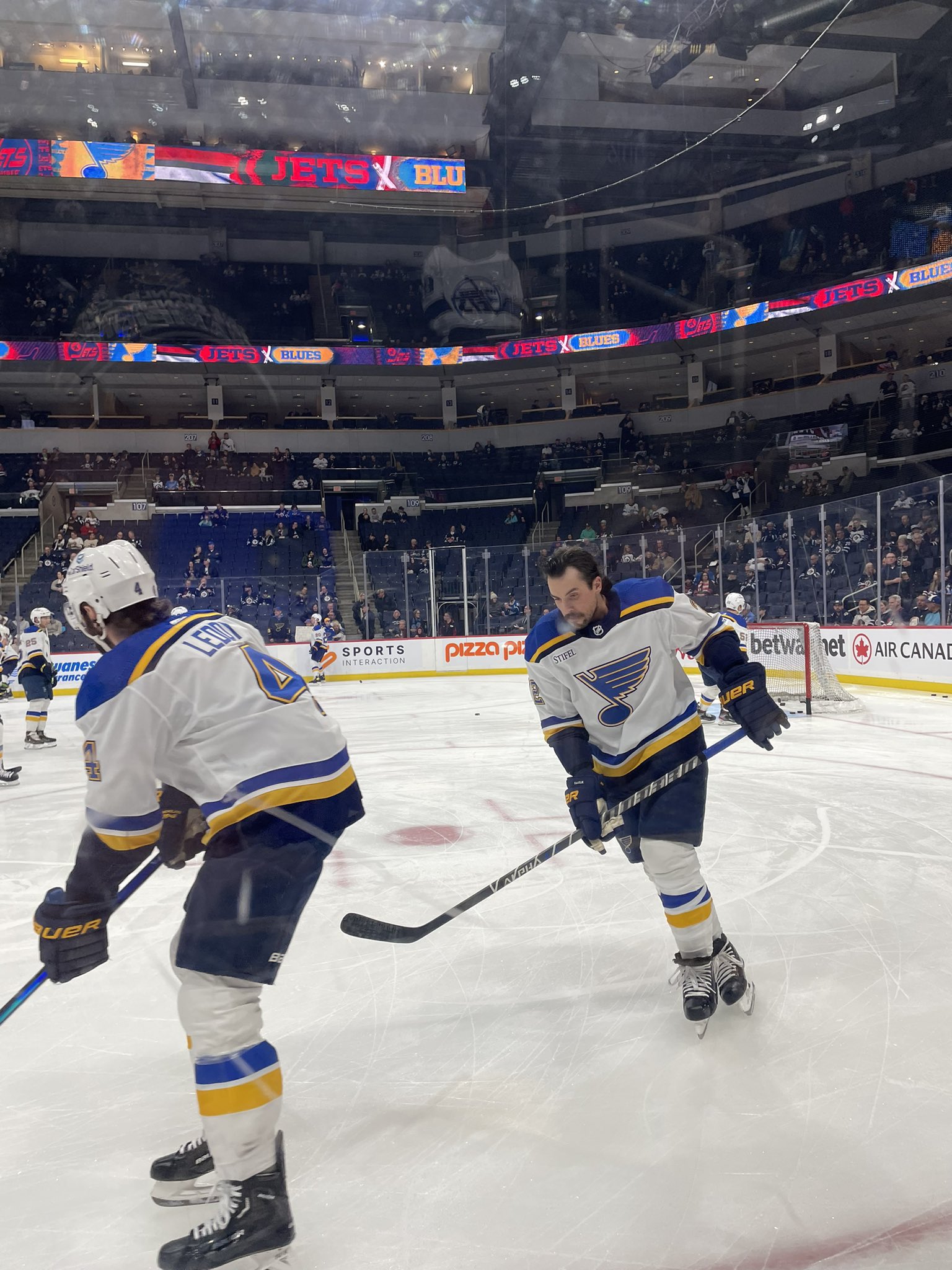 The fun didn't stop there. Makayla brought a sign reading "Holy Jumpin'!" to the game. It's the catchphrase of Bally Sports Midwest's Blues analyst Darren Pang, who noticed Makayla during pregame activities. Pang and Makayla spent several minutes talking about hockey, then he took a selfie with her.
"She just went over there to see if he would acknowledge," said Gibbs. "I kind of had a routine where every time I did a selfie with him before a game, the Blues would win. We were like 4-0."
The Blues led through the early stages of the third period Monday until the Jets rallied with four unanswered goals and pulled off a comeback. The result didn't really matter to Gibbs and Makayla as they promoted the "Faulkateers" for hours.
They learned about an added bonus to their experience midgame. Pang shared a video of the selfie experience on the Bally Sports Midwest broadcast. He even gave the Gibbs family and the "Faulkateers" founders a shoutout.
"All of a sudden, she's like, 'I think I'm on TV, dad,'" said Gibbs. "Then I'm laughing about it, and she was like, 'Oh my god, I was on TV!' She was all excited to be back at school, talking about how she got to be on Bally's [Blues broadcast]. She was so excited to be a part of it, and Darren was just amazing with her. He's always been good with the fans."
For Makayla, it built on another one-of-a-kind experience with the Blues from the 2019 Stanley Cup run.
"From the moment in that 2019 season when the Blues made that run, she was asked to be a junior captain," said Gibbs. "Having that moment where she got to skate out, she still talks about when [Vladimir] Tarasenko spoke to her."
Makayla enjoyed a pregame skate ahead of Game 4 of the 2019 Stanley Cup Final. It also came with the chance to hold a flag during team introductions and the national anthem.
Gibbs says countless Blues fans, including Pat Maroon's brother, vouched for Makayla to join the Junior Captain Program, one that primarily recognizes St. Louis-area youth hockey players.
Makayla, who is preparing for high school hockey after several years in Canada girls programs, was a special exception. The Blues invited her for a similar honorary captain experience in February 2019. Four months later, she returned for the opportunity of a lifetime.
"In Game 4 of the Stanley Cup Final, she had no idea how many millions were watching her out there," said Gibbs. "That's the proudest moment for a parent. We're teary-eyed watching this, and you can see her love for the game. I can't thank the [St. Louis Blues] organization enough."
The Blues are not quite positioned like the 2019 Stanley Cup team this year, though Gibbs, his daughter and other "Faulkateers" plan to stay optimistic through the highs and lows.
"Back with Faulk, keep it going," said Gibbs. "We got to get these numbers going. I want people bringing these signs to the game. I want all fans to do it. Just get it going so the NHL starts looking at it like, 'Oh, what is this thing? What's going on?'"
Gibbs has also asked the Blues about possible arrangements to bring the Enterprise Center's giant bobblehead of Faulk up north at the season's end. He also hopes the Blues will show support with 'Faulkateers' merchandise in the future.
"This gets the fans right into it when they can see that something they did on a whim gets picked up and everybody's supporting it," said Gibbs. "It's hilarious."
Perhaps a start to meet those ambitions, the Blues tweeted out "Faulkateers unite!" after No. 72 sparked an overtime win in Seattle earlier this season. Faulk could help the cause too as the leader or runner-up in points (26), blocks (84) and hits (86) among Blues defensemen.