Free agency is now less than six weeks away and many teams are already looking ahead to when it opens up.  There will be several prominent players set to hit the open market in mid-July while many teams have key restricted free agents to re-sign as well.  Next up is a look at the Blues.
Key Restricted Free Agents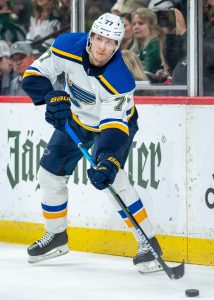 D Niko Mikkola – It has taken a while but Mikkola has worked his way into being a full-fledged member of the back end for the Blues, albeit in still a limited capacity.  The 26-year-old played in a career-high 54 games this season but was also scratched rather frequently.  When he has played, he has shown some promise as a stay-at-home, physical defender that can do well on the third pairing.  But at Mikkola's age, that's not a particularly high bar to try to meet.  He's owed a qualifying offer of just over $826K but the most notable element here is that he's a year away from UFA eligibility.  Between that and arbitration rights, Mikkola will be able to beat that qualifier but are the Blues in a spot where they would be willing to pay closer to $1.5MM and get a couple of extra years of team control?  Will they be able to afford to do so?
D Scott Perunovich – Perunovich's time in the pros has been mired with ups and downs.  After missing all of last season due to injury, he was limited to just 36 regular season games this season thanks to injuries.  When he did play, however, he showed the offensive skill that he had in college that has made him one of their top prospects.  But with missing so much time, the 23-year-old certainly isn't in a spot to command much more than his $874K qualifying offer which is a two-way tender.  It's entirely possible St. Louis opts to try to get Perunovich to take less than that in exchange for a one-year, one-way deal, giving them a tiny bit of extra cap flexibility and the blueliner a guaranteed payday.
F Klim Kostin – The 2017 first-rounder had an opportunity to spend the bulk of the season with St. Louis and held his own on the fourth line, collecting nine points in 40 games while averaging just over nine minutes a night.  Those numbers certainly don't stand out but he should be a strong candidate for a spot at the end of the roster in St. Louis next season.  His contractual situation is the same as Perunovich's – he's owed the $874K qualifier but it's possible the Blues try to get him to take less in exchange for a one-way salary.
Other RFAs: F Will Bitten, F Tanner Kaspick, F Hugh McGing, F Nathan Todd
Key Unrestricted Free Agents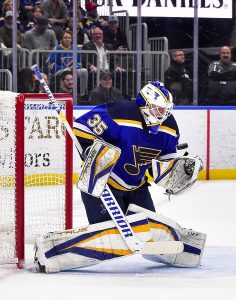 G Ville Husso – For years, Husso was viewed as the goalie of the future for the Blues and while it took him a while to get to the NHL, he showed this season that he can be a strong goalie at the top level, posting a 2.56 GAA along with a .919 SV% (good for a tie for sixth-best in the league).  However, he didn't fare as well in the playoffs, ending his season on a lower note.  With just 64 career NHL appearances under his belt (including the playoffs), the 27-year-old doesn't have enough of a track record to command a long-term, high-dollar contract like the six-year, $36MM deal Jacob Markstrom got in free agency two years ago.  But a shorter-term deal in the $4MM range should be achievable as there will be teams out there that will view Husso as a low-end starter or a high-end backup.  Either way, he's heading for a significant raise after making the league minimum the last two years.
F David Perron – Since returning to the Blues in 2018, Perron has averaged a higher point per game rate than his career average which is notable since he turned 34 last month.  At a time when many players start slowing down offensively, he's improving his output.  In terms of points among pending UFAs, Perron sits eighth and if he was to get to the open market, he'd likely receive a nice raise from the $4MM AAV he had on his most recent deal.  And yet, few expect him to actually get to free agency.  While he has played on five different teams in his NHL career, Perron has only signed contracts with St. Louis, opting to come back each time he reached the open market with another organization and there is certainly an expectation that he will do so again.  If that's the case, he might leave some money on the table to do so.
D Nick Leddy – The Blues were able to add Leddy at the trade deadline to shore up their back end and Leddy didn't disappoint, averaging over 21 minutes a night down the stretch and in the postseason (where he was one of several St. Louis rearguards to miss time due to injury).  At this stage of his career, the 31-year-old is not the top defender that he was at times with the Islanders but he could still be a solid second-pairing player or a high-end third-pairing option on a deeper squad.  With a UFA crop that isn't particularly deep, Leddy should generate considerable interest although it would be very surprising to see him beat the $5.5MM he made on his soon-to-expire contract.
Other UFAs: F Sam Anas, F Tyler Bozak, D Dakota Joshua, G Charlie Lindgren, F Mackenzie MacEachern, F James Neal
Projected Cap Space
The Blues have just over $9MM in space below the $82.5MM Upper Limit and while they don't have many roster spots to fill (likely a couple of forwards, two defensemen, and a goalie), they don't have enough money to keep all of their pending UFAs around.  They also have to be mindful of big contracts on the horizon for Jordan Kyrou and Robert Thomas (both 2023 RFAs) while Ryan O'Reilly will need an extension as well at that time.  There's enough room for GM Doug Armstrong to keep at least one of their UFAs in the fold but if he wants to keep more than one, he'll need to find a way to free up some cap flexibility first.
Photos courtesy of USA Today Sports Images.  Contract information courtesy of CapFriendly.